Norwegian Encore
20 Decks
1094 Feet long
136 Feet Wide
3998 Passengers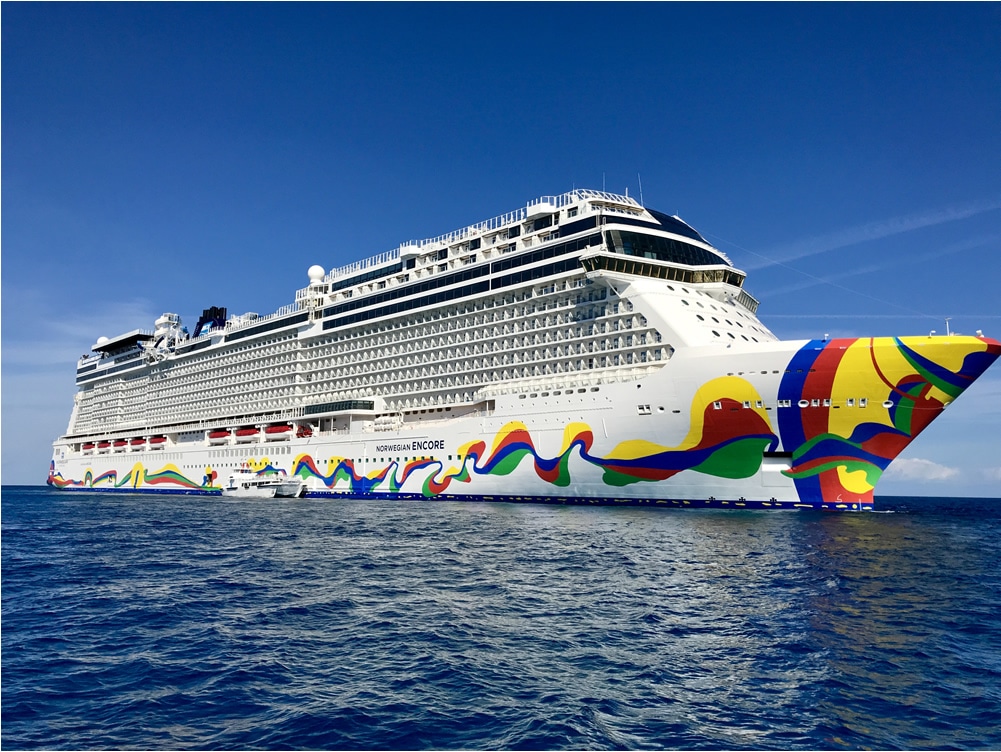 What's On Board
Dining (Included)
Garden Café
Serving breakfast, lunch and dinner, Garden Café goes beyond a traditional buffet. With floor-to-ceiling windows featuring breathtaking ocean views, this complimentary indoor restaurant offers everything you could possibly imagine. In addition to a variety of delicious entrées and side dishes, you'll find our popular action stations featuring made-to-order omelets and waffles, an Italian pasta station, a carving station with freshly prepared meats sliced to your liking, grilled specialties, ethnic favorites, and a dessert area lined with lots of sweet surprises.
The Local Bar & Grill
The Local offers classic pub fare in a relaxed atmosphere. With popular dishes like the Reuben Sandwich and Fish n' Chips, The Local has all your favorite comfort foods. So try one of our beers or cocktails on tap and catch a game with us!

The Manhattan Room
One of three Main Dining Rooms aboard Norwegian Bliss, The Manhattan Room is where guests can dance in style while listening to live music and enjoying specially curated modern and classic dishes made with the freshest ingredients
Savor Main Dining Room
Balancing classic favorites with unique new dishes, dining at Savor is a must. Offering guests an extensive menu of deliciously fresh flavors along with chic and modern decor, visiting this Main Dining Room is always in style.
Taste Main Dining Room
Serving a wide variety of cuisine, Taste also offers a stylish and contemporary atmosphere. Plus, with a menu that changes daily, Chef's Signature Dishes and carefully selected wine recommendations, you'll experience a different culinary adventure with every visit to this Main Dining Room.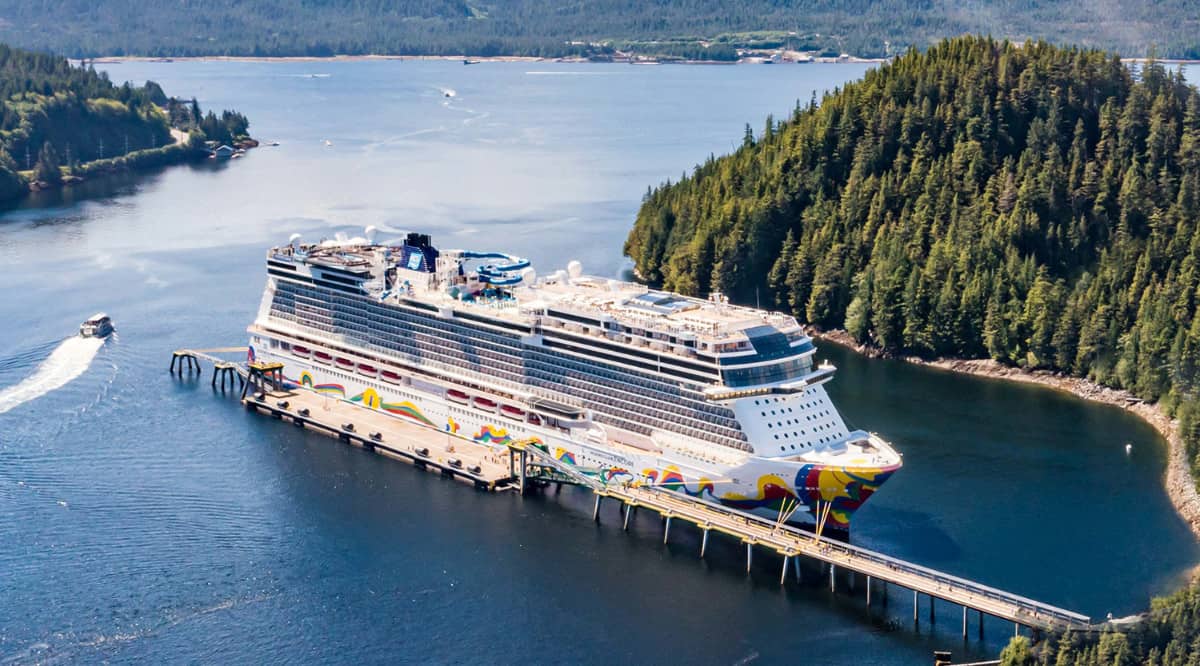 Dining (Extra Charge)
Onda by Scarpetta
Onda, or "wave" in Italian, brings the charm and effortless elegance of its critically acclaimed sister restaurant, Scarpetta, to sea. Uncork your favorite bottle of wine and let la dolce vita (the good life) flow. Indulge in a modern Italian culinary experience from Scarpetta's signature pastas like the famous Spaghetti Tomato & Basil to unique, mouthwatering seafood creations. And leave room for dessert. Sharing is optional.

Le Bistro
French cuisine at its finest. Welcome to Le Bistro, our signature French restaurant. Enjoy your magnificent meal inside surrounded by classic decor. Or at our new seating option – Atrium Al Fresco – and feel like you're at a sidewalk café in France.
Teppanyaki
Flying shrimp. Onion volcanoes. Twirling knives. The sizzles and surprises never cease at Teppanyaki, our authentic Japanese hibachi restaurant. Sit around a lively shared table as a skillful chef slices, chops and grills steak, seafood and chicken on a large steel grill right before your eyes. Our chilled, sake-infused wasabi cocktail will have you flipping too.
Cagney's
Steak is the standard at our American-style steakhouse. Sip your favorite cocktail as you select from choice cuts of Certified Angus Beef® perfectly prepared. And don't forget to order our famous truffle fries.
American Diner
Pull up a chair at the casual diner and order from a diverse selection of comfort foods, including burgers, fried chicken, pot pies and more. Experience a slice of Americana, including classic American cars, with every bite.
Food Republic
Travel somewhere new with every delicious bite at Food Republic. Savor a fusion of foods and cultures from around the globe. Travel to Mexico and scoop up some tasty street food. Jet away to Japan and try a new kind of sushi roll, or have a hearty helping of Thai noodles.
Los Lobos
Bienvenido a Los Lobos, a premium Mexican restaurant celebrating traditional flavors with a modern twist. From Carne Asada marinated in guajillo chiles and tequila to Tres Leches Cake with Coconut Cream, the chefs at Los Lobos focus on unique flavor combinations.
Dolce Gelato
Slow churned, dense and intense in flavor, gelato is Italy's answer to ice cream. And with so many flavors to choose from, our version is the perfect accompaniment to a leisurely stroll
Coco's
Come to Coco's because anytime is a good time to savor a decadent Mad Milkshake! With assorted bonbons and chocolate specialties from around the world, gelato, crepes and more divine treats than days in your cruise, Coco's is the sweetest spot in the entire ship.
Q Texas Smokehouse
Dig into some authentic Texas BBQ. All our smoked meats are infused with delicious flavors and come with all the traditional sides. As dinner winds down, the atmosphere heats up as a contemporary country band ropes you into a lively night of dancing, drinking and a honky tonk good time!

Ocean Blue
Tastefully nautical and temptingly delicious, Ocean Blue is not to be missed for seafood lovers. Whether dining inside or oceanside on The Waterfront, enjoy fantastic vistas and fresh, locally-sourced seafood.

12 Bars and lounges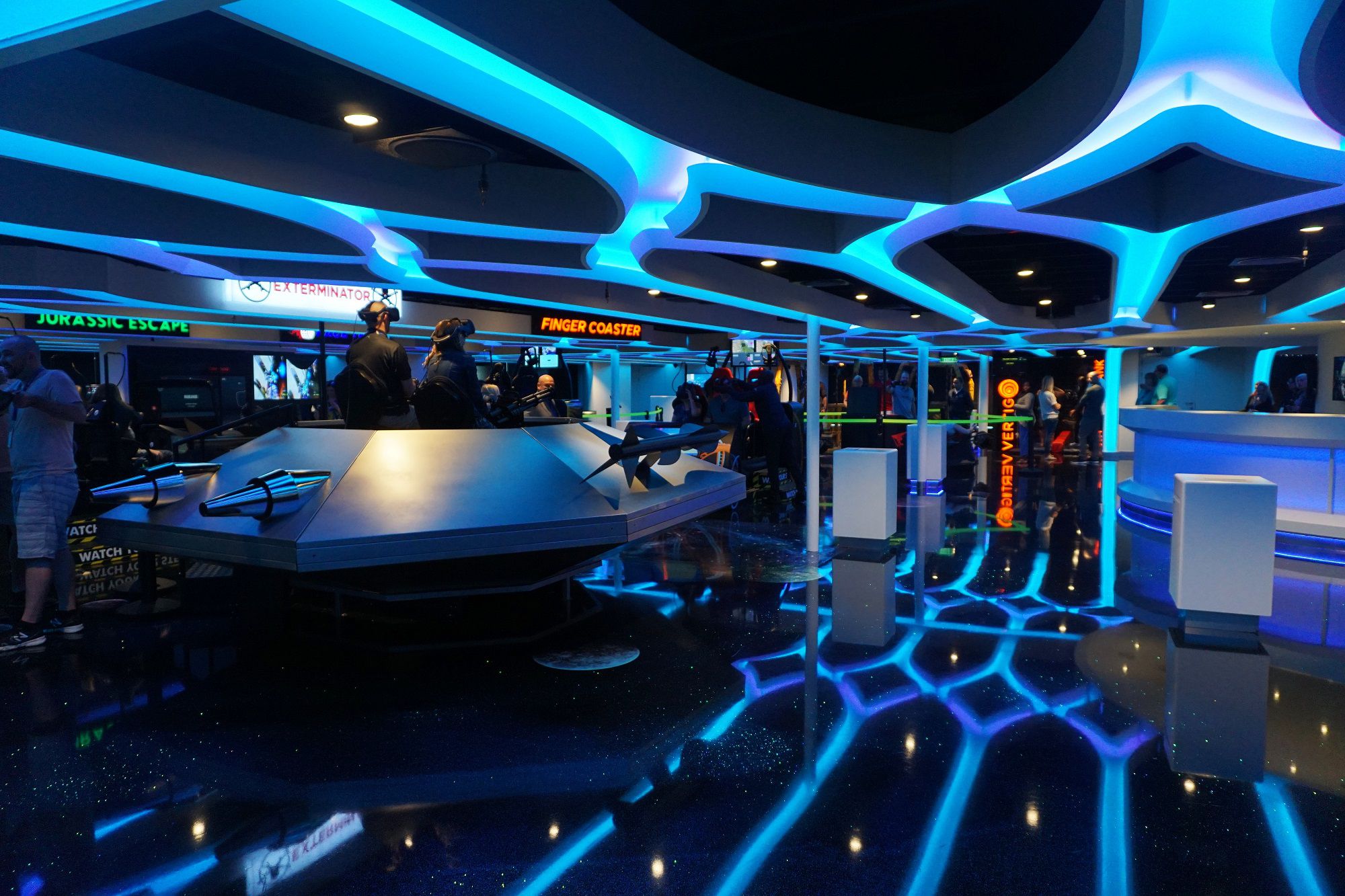 Activities
Galaxy Pavilion
Step into the Galaxy Pavilion and into a virtual world unlike anything you've ever seen. Enjoy an immersive gameplay experience during Dark Ride 7D. Feel the intensity as you accelerate through every adrenaline-fueled turn on a cutting-edge racing simulator race course. Watch colorful imaginations come to life on the Wall of Wonder, a larger than-life 3D animated, interactive video screen. This is just the beginning of an exciting new world to discover. Games starting at $8 USD
Laser Tag
Get ready for a laser tag battle of galactic proportions under the stars. Charge is $9.95/person/game.
Hot Tubs (9)
There are seven hot tubs conveniently located throughout the ship. Try them all out or pick your favorite and make relaxing and unwinding a part of your daily regimen.
Main Pool (2)
C'mon by for a swim plenty of deck space, hot tubs, and more.
Jogging/Walking Track
Run circles around the other guests or get in your daily walk while you're at sea. Breakfast always tastes better after a good walk or run, right?
Aqua Park
Slide into the time of your life. Make it the best of three on Aqua Racer, our tandem waterslide at sea. Or call it a lazy day and lounge by the pools and hot tubs with a frozen drink in hand. However you like to make a splash, the Aqua Park is overflowing with excitement.
Vibe Beach Club
Guests will jump for joy upon discovering this 2-story, private retreat where they can connect with the ocean – and disconnect from everything else. Exclusively for those 18 and over, Vibe Beach Club is resplendent with incredible ocean views, hot tubs that extend over the side of the ship, and a misting water feature – ideal for relaxation. A full-service bar, chaise loungers, chilled towels and skewers of fruit ease you even more into serenity. Passes available for purchase on board at the Guest Services desk.
Encore Speedway
With over 1100 feet of pedal-to-the-metal action, the largest race track at sea is bigger, better and only on Norwegian. Watch the ocean blur by as you zoom around high-speed curves suspended 13 feet off the side of the ship. And spectators can get in on the action, too! Revolutionary interactivity lets you boost your favorite racer past the finish.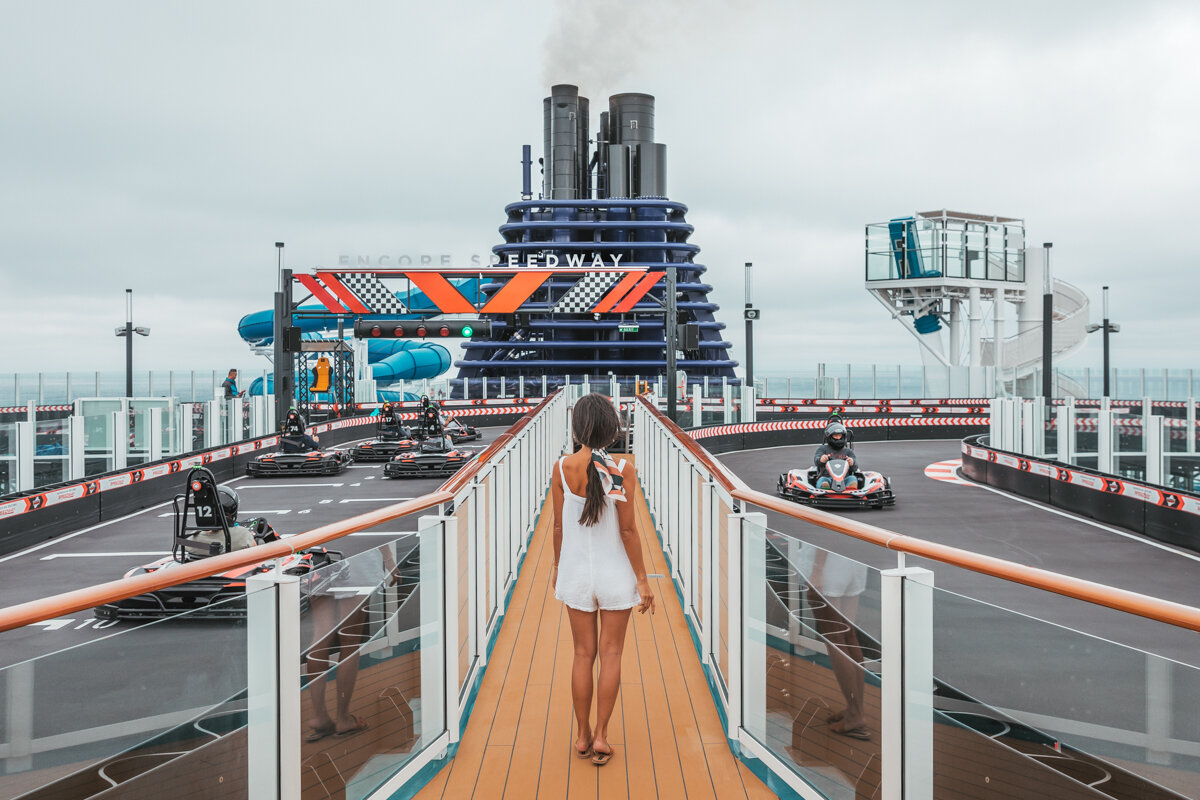 Splash Academy
Kids ages 3-12 can do what they do best – be kids! Our complimentary youth program is where they can enjoy age-appropriate creative play, sports and more. From scavenger hunts to shipboard family challenges and dodgeball to pizza-making, there's something fun for everyone.

Entourage
Teenagers 13-17 have their own hip space to hang out. By day, it's the coolest clubhouse by sea. By night it turns into a dance club party. Add fashion and theatre workshops, themed events, pool parties and more. It's all complementary, and it's all supervised by our certified youth staff.
678 Ocean Place
Follow your mood from one amazing experience to the next at the heart of the ship — 678 Ocean Place. Three decks of non-stop action await you, day or night.
Encore Casino
Welcome to NCL's Casinos at Sea. Where novices and veterans alike will enjoy Roulette, Blackjack, Craps and Let It Ride®. Let the good times roll.
Mandara Spa
If being pampered is your idea of a vacation, the Mandara Spa is the place for you. This full service beauty salon and spa offers a wide range of spa treatments to rejuvenate your body and soul.
Pulse Fitness Center
There are numerous ways to stay in shape while on board the Escape. The Fitness Center has a full-service gym and aerobics/fitness classes offered daily
Spa Salt Room
Our Salt Room mimics natural salt caves found in Eastern Europe. The noninvasive treatment, halotherapy, is relaxing, natural and scientifically proven to improve respiratory and skin ailments and aid in overall wellness.
Spa Thermal Suite
The Thermal Suite offers a unique experience benefiting the mind and body. Unwind and rejuvenate as you indulge in ultimate relaxation. Take a dip in the hot tub as the power of the warm water improves your circulation and loosens stiff muscles. Then head to the steam room to relax stiff joints, improve your immune system and alleviate pains. If detox is what you crave, sit down at the sauna a little while in the dry heat to sweat out your cares as your heart and sweat glands work together to purify your body. Lastly, cool off and cleanse with a "tropical rain shower." –>
Encore Theater
It's show time! And we've got a really big show for you at the Theater. A stunning two-story main show lounge with a stage headlines the best entertainment at sea.

The Library
You'll find a well-stocked selection of things to read with all the elegant trimmings a good library deserves.
Trade Winds
This shopping destination is where you can find a nice selection of watches, cosmetics, perfumes and more!